Well....not officially, just yet (still have paperwork to do, like bank account numbers and the like to give to them), but I got 'the' phone call this morning, confirming my employment with the Cerebral Palsy League!! Just another area that I want to delve into.....besides nursing, that is!
So.....I will be doing a minimum of 48 hours per week (ETA - Um....I meant fortnight!)....permanent part time - shift work. I dont know how it will all go, right now, but I am gonna give it my best shot! Weekends will no longer be mine, no doubt, but I hope to get the important weekends off, when my bestie gets married next month and my bro gets married in September!
I was actually successful for both job interviews, but this is the better one (more down the career path that I would like to go - not so much the pay rate).
I got my proverbial finger out over the weekend and 1/2 completed another crochet project for my friend. Honestly, it was WAY too hot this afternoon when I would normally sit down and do some more for me to continue it! Here is what I am doing: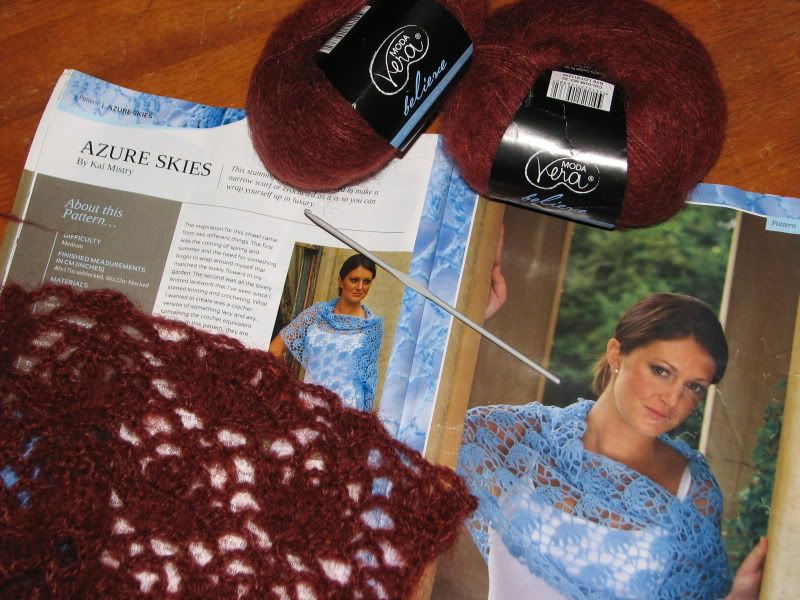 The pattern is from the August/September issue of the UK mag Inside Crochet, called "Azure Skies" and worked in Moda Vera Believe. Not my immediate choice, but when K trawled through my patterns, this is the one that she chose herself. I am actually liking it! I dont like making a mistake (but, then again, who does?), coz it is a fluffy wool and catches on itself all the dang time! However, this would have to be my biggest project using a small hook that I have done and I am getting quite proud of myself because of it. I reckon she will like it!
Alrighty, then! That's all from me today! Hope everyone had an excellent weekend! And hope you have an even better week!! TTFN!